We will remain open till Mother Nature says no more!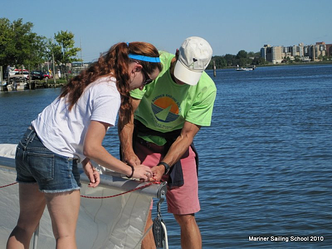 Learn a skill that will last a lifeti

me. No matter your age or ability - experience the freedom of effortlessly gliding through the water powered by nature.
Sailing is an art, a passion and a love.
Mark Twain said it best in this short paragraph: "Twenty years from now you will be more disappointed by the things that you didn't do than by the ones you did do. So throw off the bowlines. Sail away from the safe harbor. Catch the trade winds in your sails. Explore. Dream. Discover."
Our 3:1 student to instructor ratio, beautiful location and great boats are just a few reasons to sail with us. With a dedicated staff of people-oriented, professional sailors, we welcome the opportunity to show you just how much fun you can have sailing.
We look forward to sailing with you soon!
Give us a call

(703) 768-0018

and we would be delighted to answer your questions

.